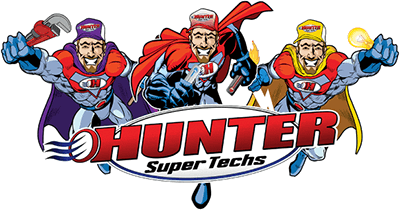 Public Service Announcement
Please take a minute to read this, we can help save you money! We are Superheroes at saving money too, not just Heating, Cooling, Plumbing and Electrical!
On January 1, 2023, the Department of Energy minimum efficiency standards are changing for the first time since 2015.
Two significant changes will affect heat pumps and central air conditioners beginning in 2023. Hunter Super Techs is here to help you navigate those changes. Our qualified technicians have your back whether you need equipment, maintenance, repairs, replacement, or installation. We offer solutions tailored to your unique comfort and budget needs.
Government Efficiency Regulations Changing
The U.S. Department of Energy (DOE) will raise the minimum efficiency standards for residential heat pumps and central air conditioners starting next year. Systems installed in the U.S. beginning Jan. 1, 2023, MUST meet those minimum standards.
The seasonal energy efficiency ratio (SEER) describes cooling system efficiency, similar to miles per gallon on a car. With SEER, the higher the number, the more efficient the unit is.
Currently, the minimum is 14 SEER for AC equipment.
Next year the minimum standard goes to 15 SEER AND they are changing the rating scale to SEER2 which means tougher standards, new equipment and certification/re-certification.
What Does This Mean For You, the Homeowner?
15-25% Price Increase on ALL equipment effective January 1, 2023. Manufacturers have already issued updates to prepare our industry
Larger outdoor equipment (this is how they drive more efficiency) – these use more materials, take up more room in production and on shipping trucks which adds to cost.
Equipment shortages as they change production lines, recertify equipment, etc.
More efficient equipment saves on utility bills (this is a good thing)
How Can You Save Money?
If you think AC/Heating equipment replacement is an investment you will need to make in the next few years, now is the time!
We still have equipment available, but manufacturer phase-out has started.
A new system will save you money on already rising utility bills (even the base models are likely more efficient than what in your home today). We guarantee
Financing for all budgets - As low as 4.99% for 120 Months means low monthly payments.
Cliff Notes Version
Cooling and Heating Efficiency
Government Changes Requiring More Efficiency
Effective Date – January 1, 2023
Equipment prices increase by 15-25% on January 1, 2023
How you can Save Money?
Invest now
Savings on energy bills
Check out our Special Offer
Hunter Super Techs is Here to Help
Professional staff
Great warranties and guarantees
Local support
Financing options
Our Offer To You
7% OFF ALL Complete Systems - End of Season Blowout!
$50 Hunter Super Techs Credit if you decide now is not the right time for you just for meeting with one of our Comfort Specialists.
Improve Your Comfort Today
If you are going to need to replace your air conditioning system within the next 2-3 years, it will never be any cheaper again. The price increase will be 15-25% at minimum. Please don't hesitate to contact Hunter Super Techs if you have any questions, we are happy to help in any way we can. We have great financing offers including as low as 4.99% with terms up to 120 months. Our staff and technicians are professionals and trained and provide you local support for service.
Don't wait on this. You will save thousands by being proactive, this is a nationwide increase.
Call 580-257-2154 or schedule online www.HunterSuperTechs.com.
Sincerely,
Your Friends at Hunter Super Techs